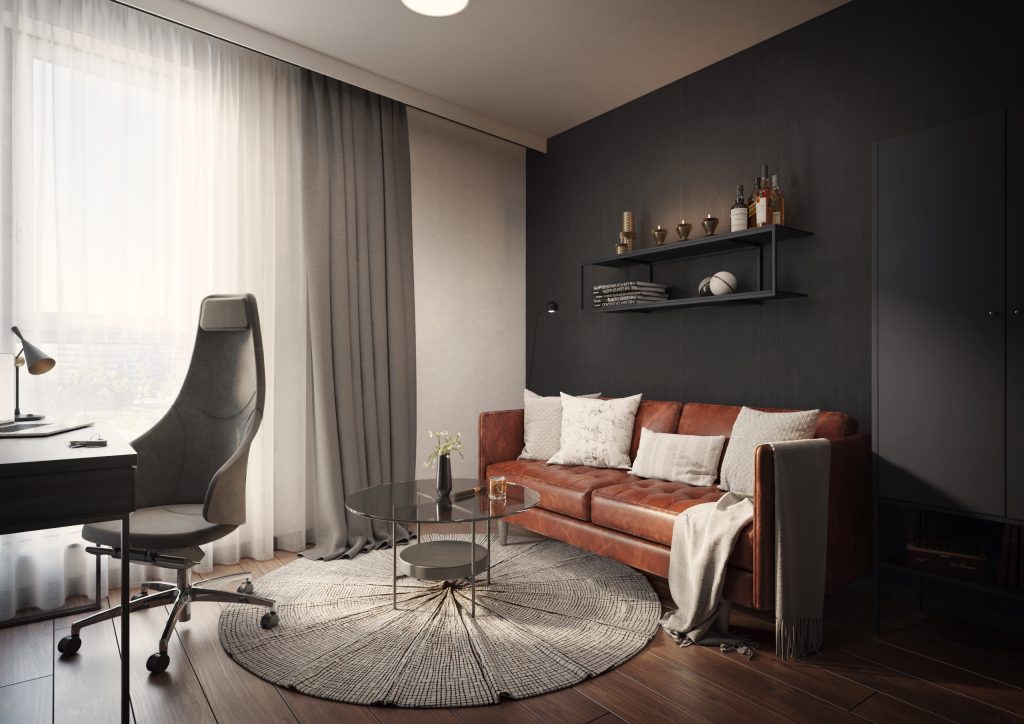 See our
projects

We design individual flats, apartments for rent and houses. We are also happy to arrange service premises and office spaces, and we also closely cooperate with leading developers.
No. 159
Company founder's apartment
Classic and ubiquitous black has been combined with a shade of cognac, rowan and walnut, which consistently appears as a leitmotif throughout the apartment, giving it an elegant expression. It is accompanied by cool shades of gray and silver, in contrast to soft upholstery and golden accessories. The main role in the living room is played by large-format tiles combined with smoked glass and an elegant lounge set. The compositions are closed with a set of hanging ceiling fixtures. The design of the apartment was created in cooperation with Biuro Projektowe Nowicki.
Place: Warszawa
Design area: 88 m²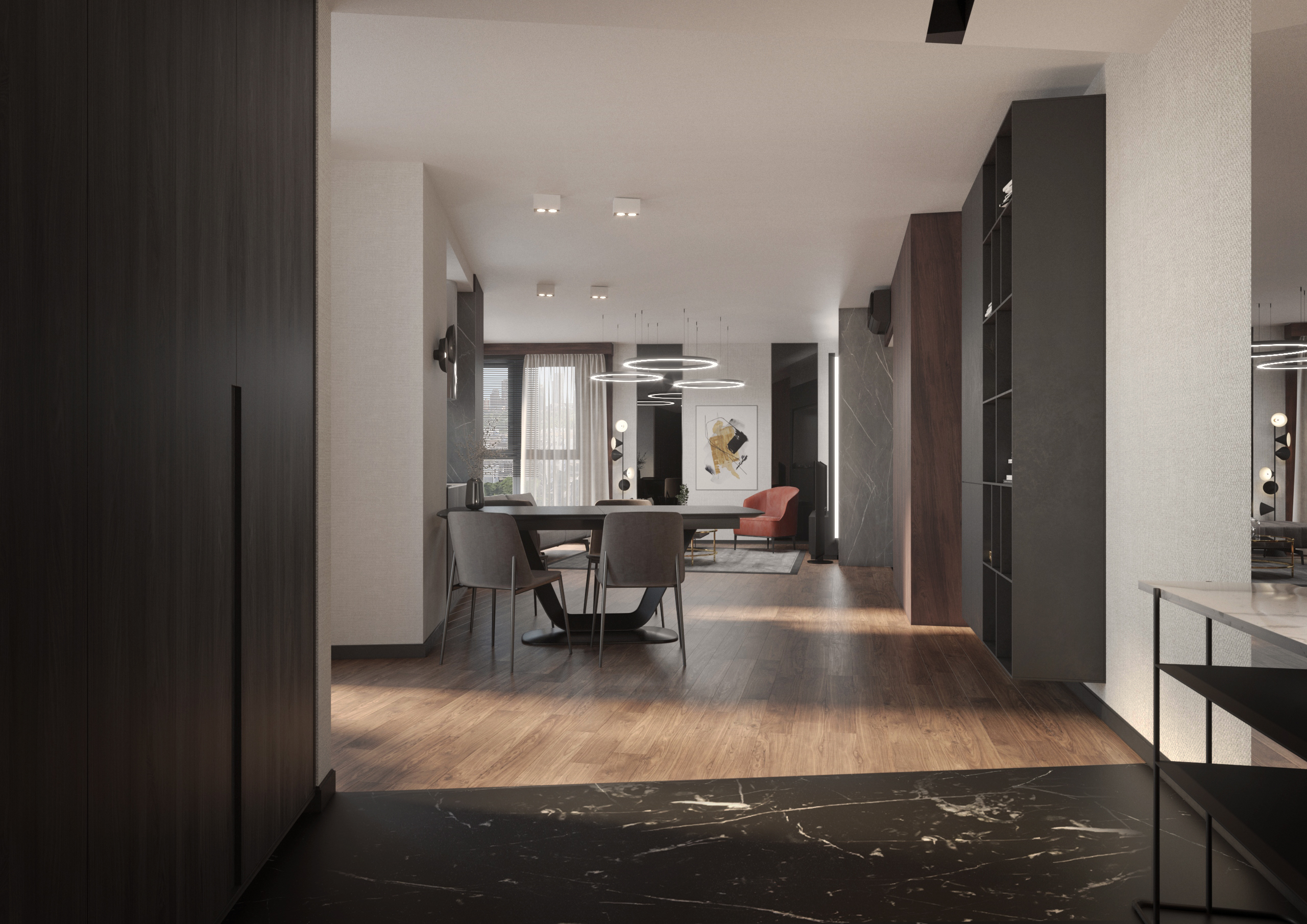 No. 139
Tesoro Gardens Residence
The most important rule when creating a design is the harmony of combination of all materials in order to obtain a distinctive and unique character of the interior. This is what we were guided by when arranging this unique residence, the starting point of which is a juxtaposition of various patterns of quartz sinters. On their basis, the entire space of the house and a winter garden have been arranged, which, after opening the door, constitutes an integral part of the day zone and opens the interior to a beautiful view and the surrounding nature.
Place: Gdynia
Design area: 150 m²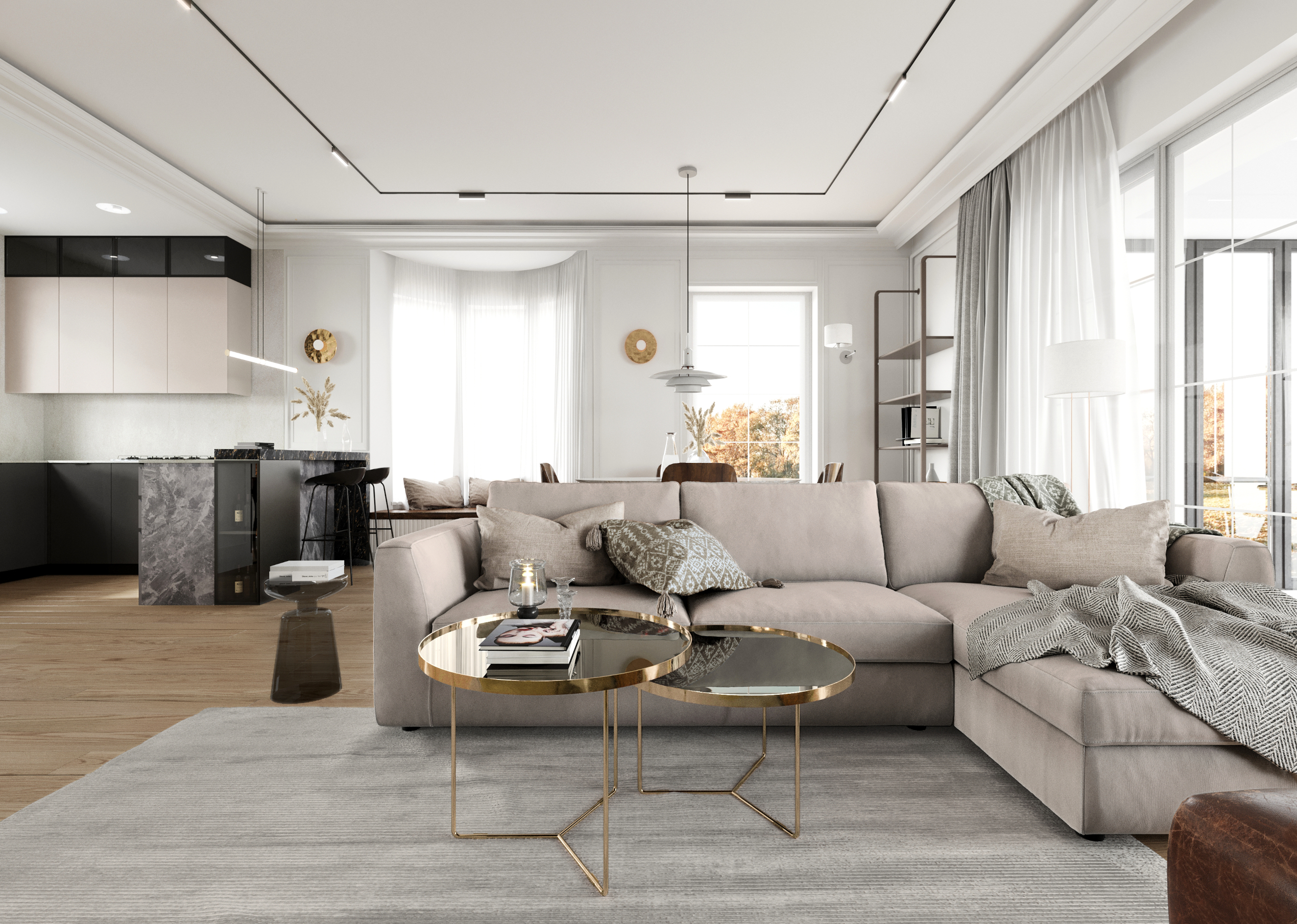 No. 111
Apartment for rent
The apartment has been designed on the basis of a classic and subdued base in a male atmosphere. Whitewashed walls optically enlarge a small space, making the interior larger and full of light. The atmosphere in the apartment is built using details. Expressive wallpaper with a visible weave, black accessories, as well as unusual colors used in bathroom furniture make the apartment take on many plans and definitely attract attention.
Place: Gdańsk
Design area: 41,44 m²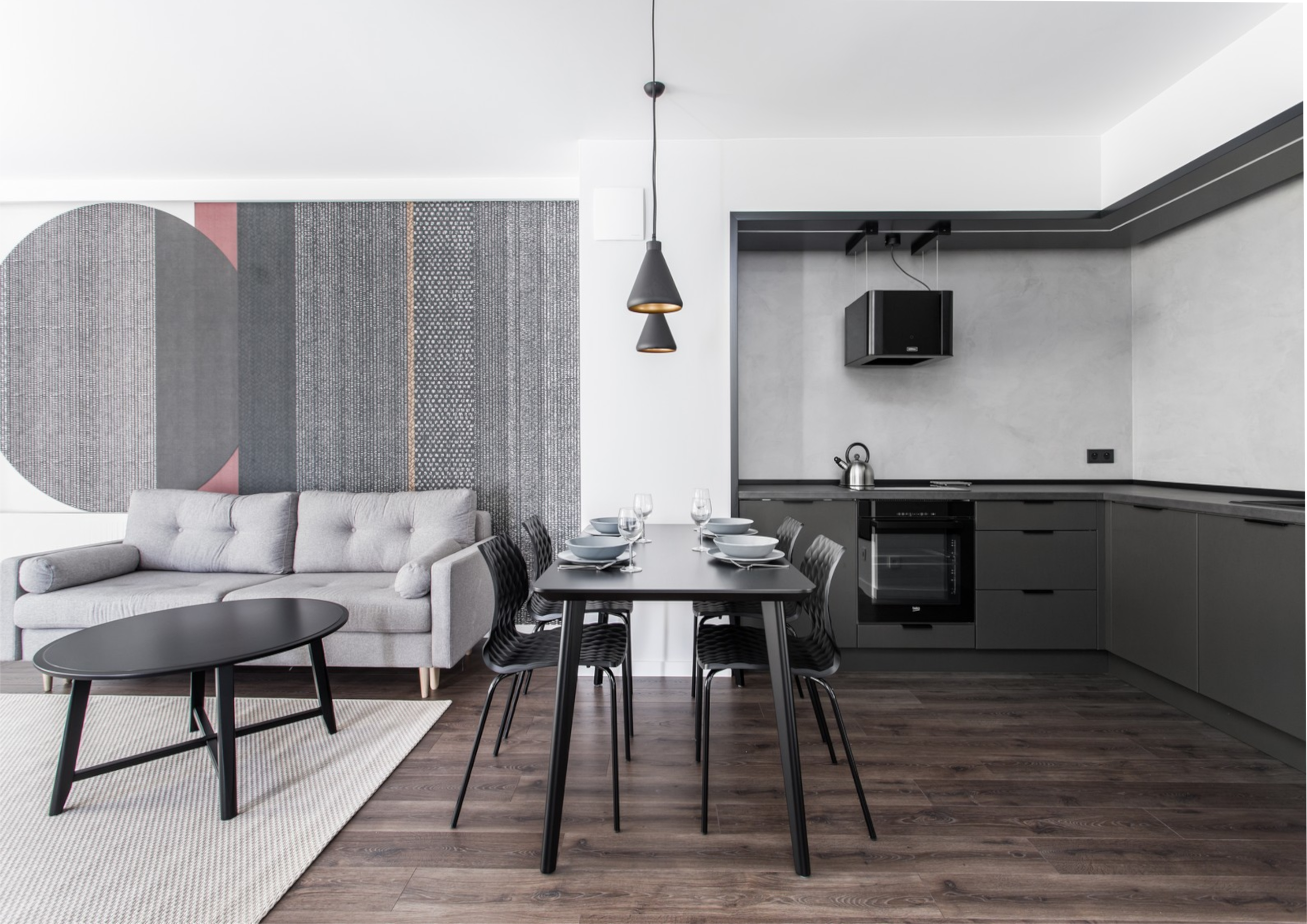 No. 157
Apartment
Living in a constant hurry, overload with duties and stress more and more often determine the final appearance of the designed apartment. The need to calm down, relax and unwind excludes motley, aggressive and strong colors, choosing neutral shades. When arranging such an apartment, it is worth using the colors of products such as silk, cashmere, orchid, quartz, limestone or marble. Just add a bleached oak floor, a little sparkle and your oasis of peace is ready. The apartment was built for JMK Development.
Place: Gdańsk
Design area: 65,27 m²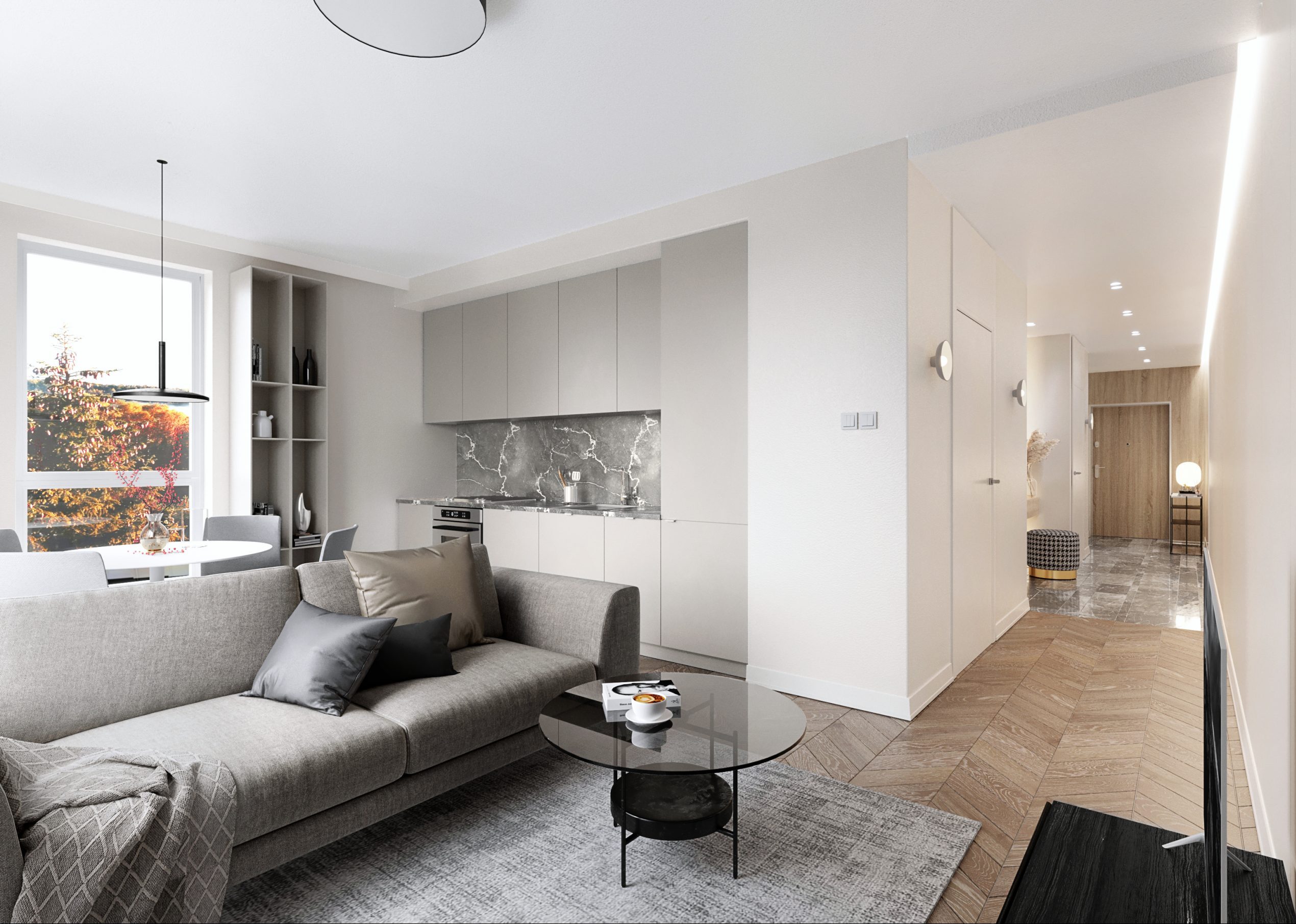 No. 100
The Gdansk Brewery Apartment
When designing an interior with character, we followed a few rules. We focused on the distinctive color of walnut wood, which we combined with the delicate form of a bright kitchen and accessories in shades of rose gold. The whole is displayed on a graphite, worn floor and a pink painted kitchen wall. The wall of the washbasin is made of concrete slabs, which, in combination with the classic marble pattern, constitute the perfect background for a beautifully made washbasin cabinet
Place: Gdańsk
Design area: 82,67 m²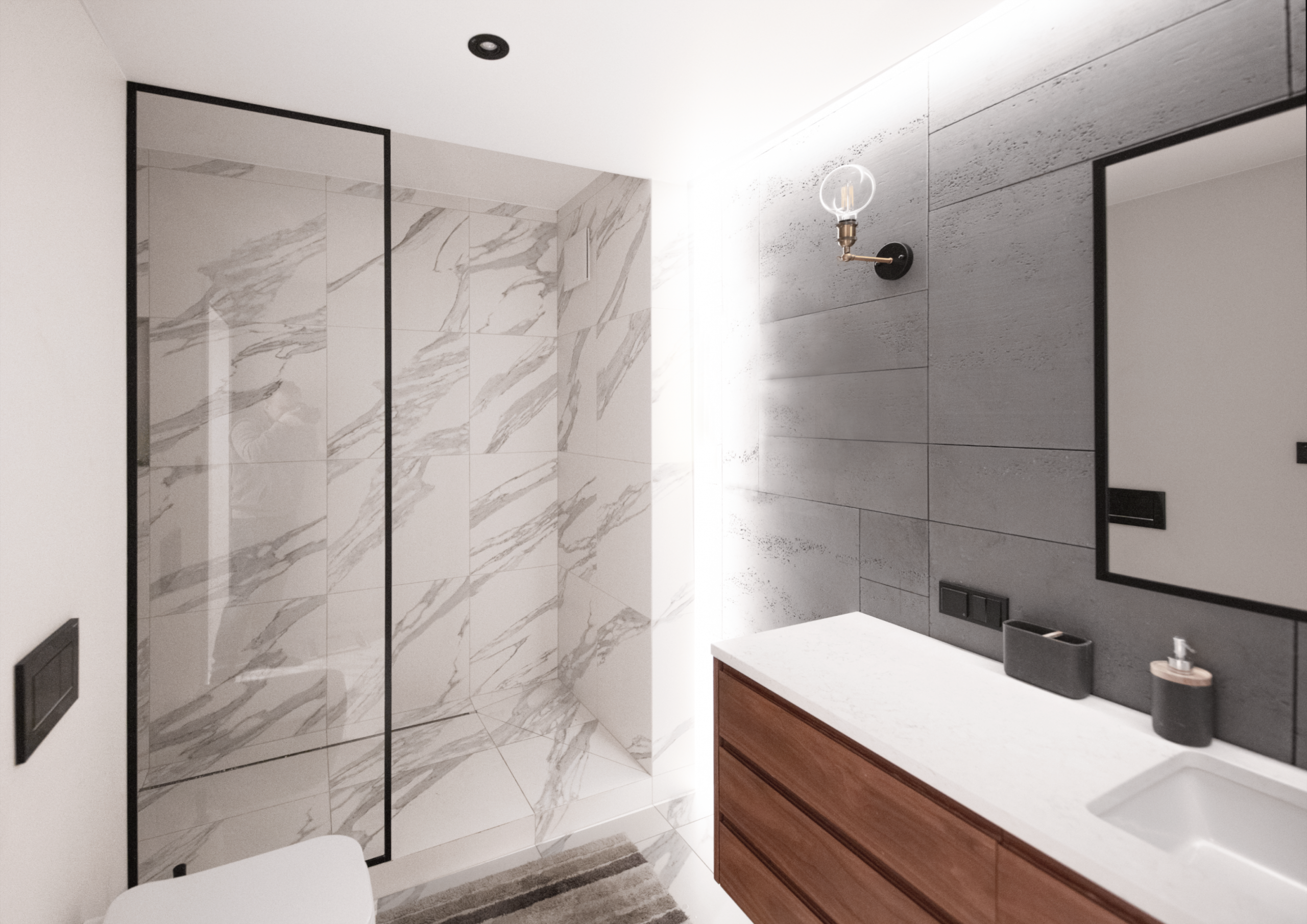 No. 161
Apartment
Wood is undoubtedly one of the most graceful materials an architect has. The multitude of colors, surfaces, structures and shapes that can be created from it gives countless possibilities. In this project, the wood theme is consistently present and connects all rooms into a coherent whole. It invites you to enter, passes through the corridor in harmony with the wallpaper, is hidden in the partition separating the entrance area, adds elegance to the stone kitchen, and finally highlights the main wall in the living room. The apartment was built for JMK Development.
Place: Gdańsk
Design area: 72,92 m²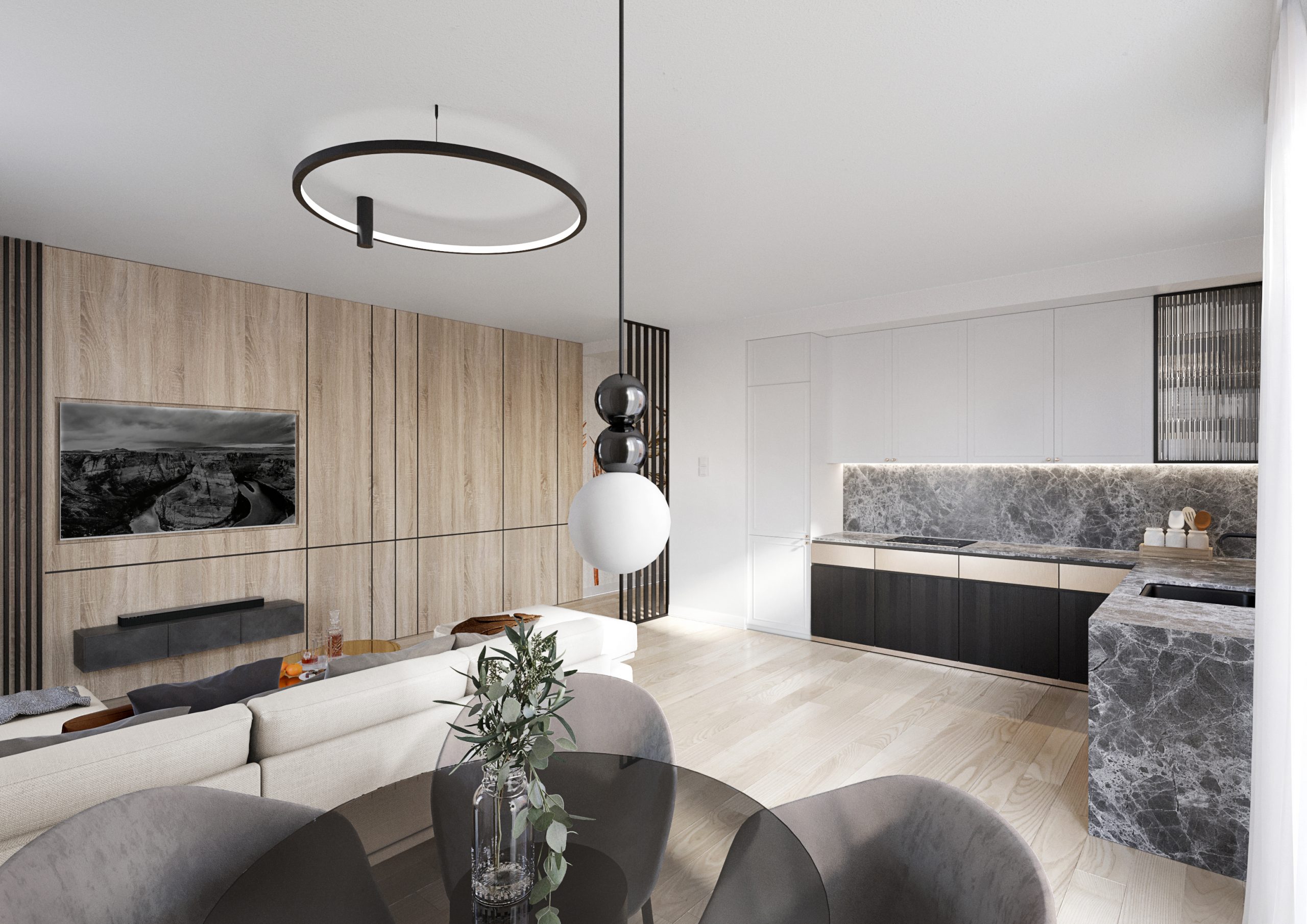 No. 160
Apartment
At the design stage, it is also worth looking for inspiration in what surrounds us. The explosion of autumn colors is an ideal color palette that can be used as a starting point in the process of arranging an apartment. Warm shades of caramel, deep burgundy, walnut, gray, sage, natural stone in combination with dark glass and modern lighting create an elegant, warm interior, all of which envelop the bright background of the walls like a passe-partout image. The apartment was built for JMK Development.
Place: Gdańsk
Design area: 65,27 m²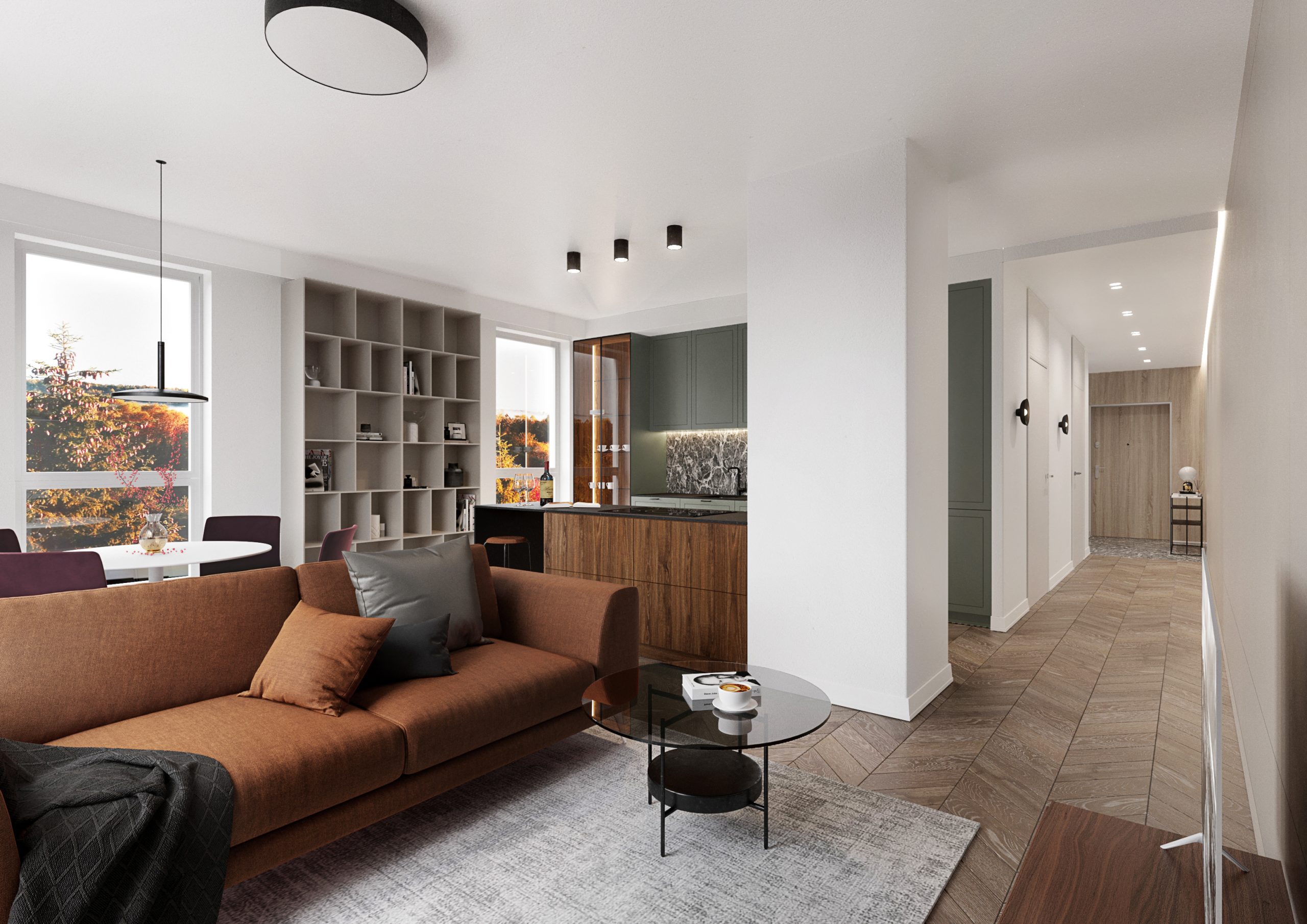 No. 143
Bathroom
Wallpapers are a great idea for highlighting walls and emphasizing specific elements. Thanks to modern technologies, we are able to use them, also in damp places and exposed to mechanical damage. The number of motifs and the range of colors will make everyone feel dizzy. In the case of this project, we focused on a plant motif, which in combination with a raw concrete tile and wood-like stoneware creates a harmonious trio, conducive to long baths.
Place: Gdynia
Design area: 5,3 m²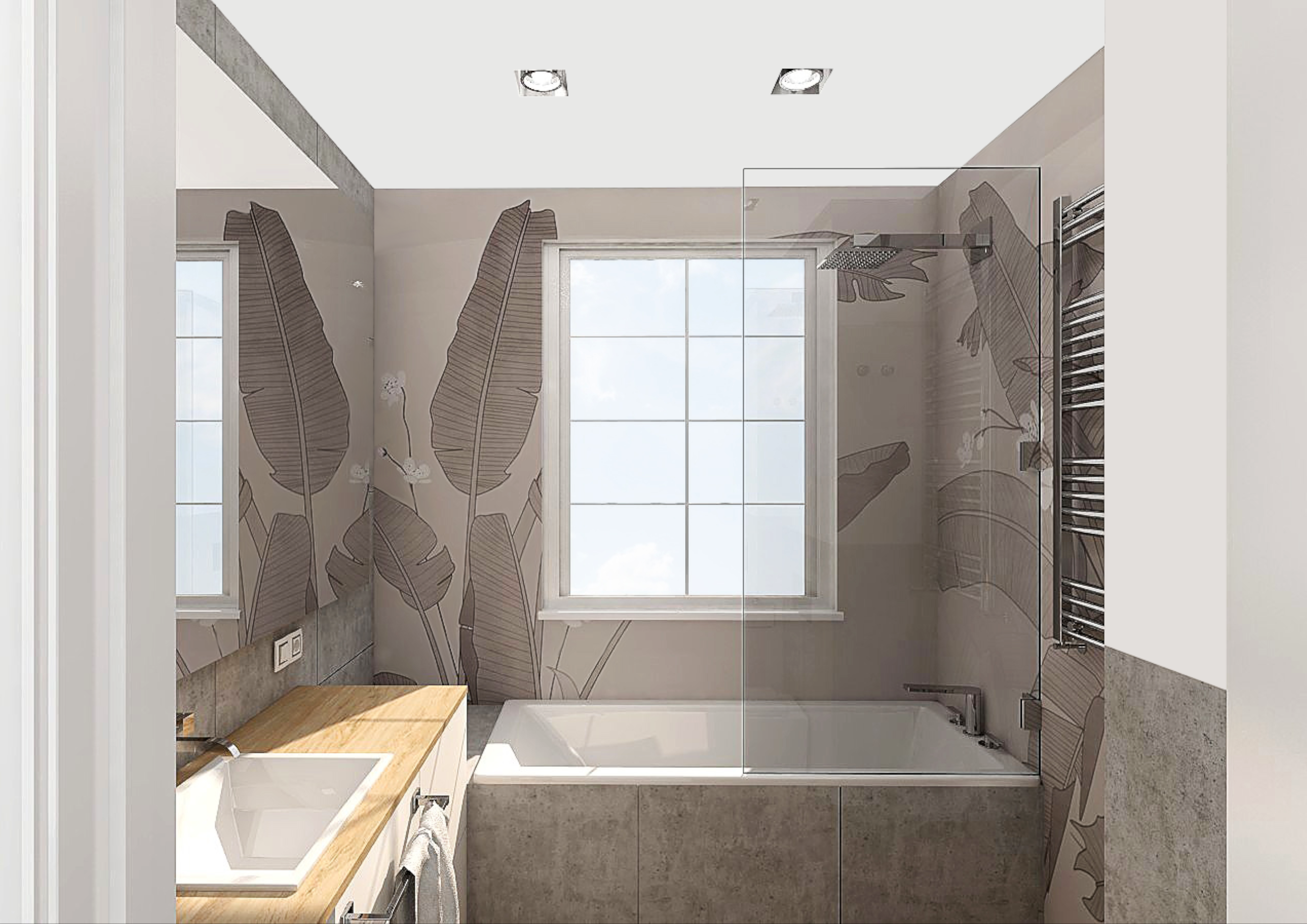 No. 142
Bath room
Designing a bathroom based on a combination of white and gray with wood does not have to be common. A great motive for adding a claw arrangement is to divide the room into a dry and wet zone, using a change of material for this. The asymmetry of textures may also be helpful, exposing a zone with a clearly lighter center of gravity than the other.
Place: Kraków
Design area: 12,5 m²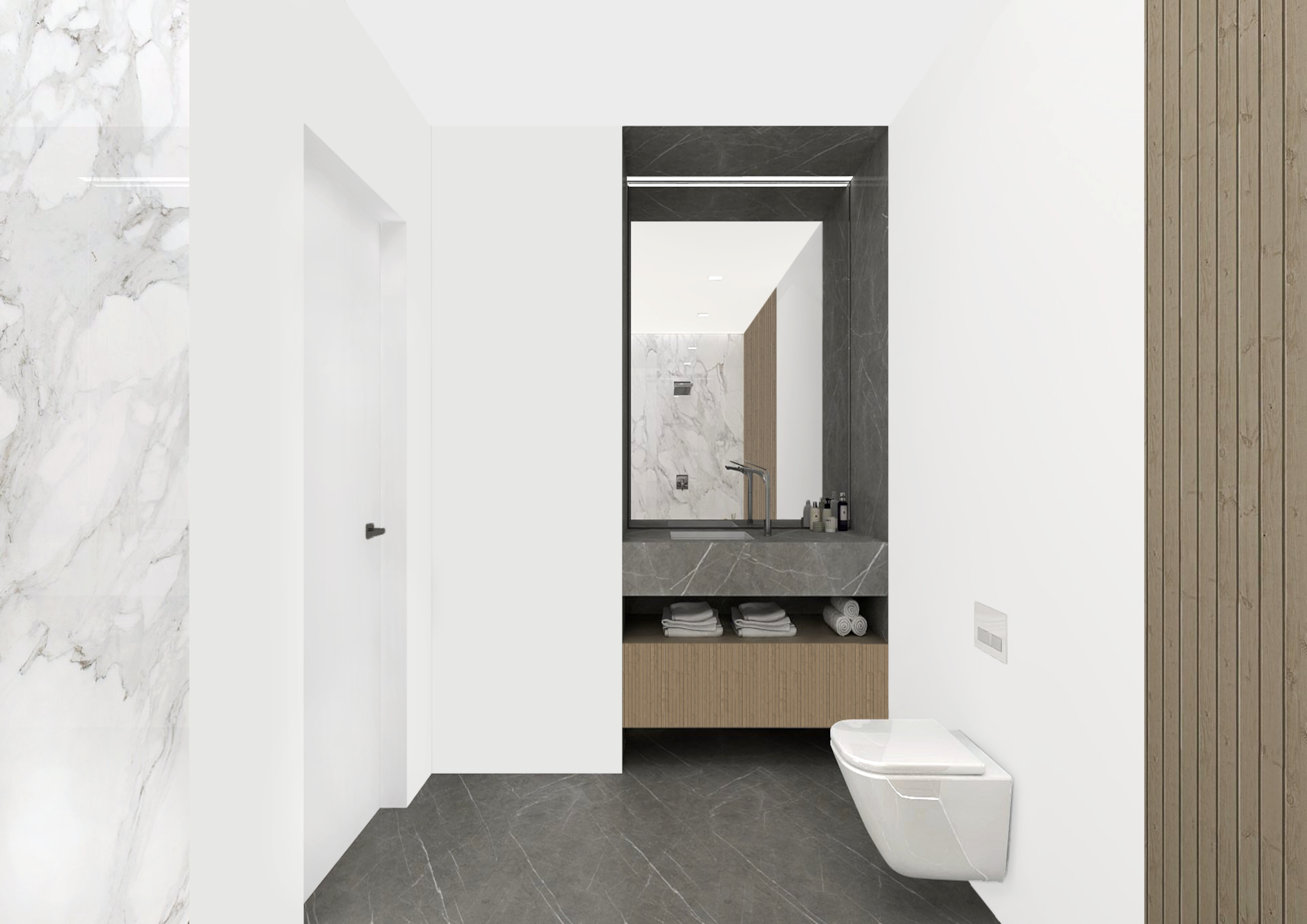 Contact us. We will be happy to help!
Let's start our joint project, let's talk and discuss! We are here for you!
Kapitańska 31b/3
81-249 Gdynia